Dojo Bali offically closed Dec '22 - Cheers to 7 years of memories! 🙂
A place to Connect, Work, Collaborate & Surf
Beachside Coworking Canggu. Canggu 1st Coworking Space.
Dojo Bali is so much more than just a coworking space. It's a community, a melting pot of inspiring individuals from every corner of the globe.
Dojo Bali is unique and cosy, our members are diverse, transient and cosmopolitan, and both the Dojo and the Canggu community benefit greatly from having such a colourful stream of amazing people flowing into our space, connecting and engaging with our members on many different levels.
We regularly host events with and for community, including masterminds, workshops, community BBQs, skill sharing sessions, networking events, inspirational events and social meetups. Check out our events page or facebook for more infomation.
Our space itself is a hip two-storey venue a stone's throw from the world-famous surf break Echo Beach. It boasts state-of-the-art facilities, 6 business grade load balanced fibre optic lines (read more on our network), an amazing pool surrounded by lush tropical gardens, air-conditioned conference rooms, 3 x air-conditioned sound proof private skype booths, hot showers and a mix of large breezy spaces and nooks for collaborative or individual work.
If you're feeling peckish onsite, you can order from a range of scrumptious menu options courtesy of our café, or perhaps you're better satiated by a fresh blend of dragonfruit from smoothie shack Nalu Bowls. And when the pressure of work is proving just too much, you can strip off and take a dip in the pool or walk a minute to the beach for a quick surf.
Think of Dojo Bali as a community of like-minded individuals, exchanging skills and knowledge in the pursuit of better quality of life through work-life balance.
Our vision is to create a thriving, collaborative community of conscious co-workers that believe in work-life balance, shared knowledge, productivity and positive social and environmental change.
Our philosophy is that community always comes first. We believe coworking is a movement that can not only create a positive impact in the lives of individuals through the creation of meaningful relationships – it can also have a positive impact within the wider global community. We believe the future of work is one with purpose and consciousness.
Bali has the perfect mix of local and international entrepreneurial spirit, blended with talented Individuals. Bali, and specifically Canggu, offers a perfect work-life balance and access to amazing people that is impossible to find anywhere else. This is why we created a community space that is relaxing, calming and comfortable, and feels like a home away from home.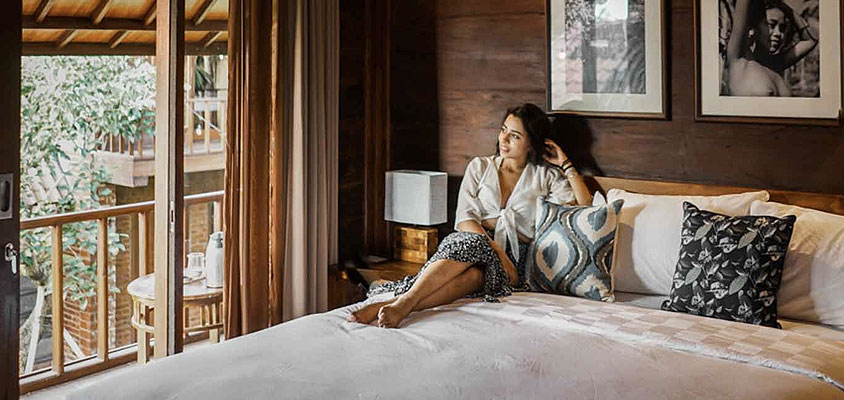 Dojo Coliving is now up and running, and we are excited to invite you to stay here! We have designed our Coliving space as your home away from home, where you can be productive either at your private work desk, or in the common areas. All guests have unlimited access to the Dojo Coworking Space. Our customized soft-landing packages are designed to help you get settled in Bali and become a part of our vibrant community as fast and easy as possible. Check it out.
While we have meeting rooms and a big events space, our community always comes first. Therefore, all meeting room bookings require approval to insure, that all events or meetings are in-line with our community values and it do not negatively affect our members.
There are currently 3 AC meeting rooms available for half a day, or full day rental for members: 2 regular meeting rooms can accommodate 8 to 12 people and 1 x large meeting room for 14 to 20 people.  We also have a larger event space that can accommodate big events for 50 up to 80 people.
An element that makes Dojo unique is our friendly and helpful team of over 45 people who are here to make your stay at Dojo more pleasant. They will help to set you up, introduce you to your coworkers, invite you to our events and networking opportunities, so you can dive into the community right away. With our team you will never feel lonely!
Our team members are from all over Indonesia, from small villages on islands, to bigger cities, such as Jakarta and come from a variety of backgrounds. What they all have in common is an open heart and a welcoming mentality. We kindly ask you to be patient, when communicating with our staff, as English is not their first language and, maybe, not yours. We are really proud to have such a great team.
Our Australian founder Michael Craig built Dojo with a personal motivation: to create a space for talented people outside the main commercial hubs that encourages collaboration, fosters productivity and gives back to the local community. With a background in digital marketing and software development, Michael has experienced a lot in his career and what he missed along the way he has created at Dojo: an open-minded community of talented people, that are looking for a place to collaborate, inspire and motivate each other and build something dedicated to a wider purpose.
"Dojo" is a Japanese word meaning "Place of the way" Like a traditional Dojo, Dojo Bali provides an environment to work and grow in.
A place for daily training and learning, a space, where you can overcome challenges and connect with the community.
Dojo Bali is hub for thinkers, change makers, entrepreneurs, digital nomads, boot-strappers, digital marketers, bloggers, podcasters, webdevelopers, online consultants, coders, networkers, designers, eco-warriors, writers, artists, programmers and people looking for something different, for more balanced life, it is a place to grow, connect and collaborate.
Dojo Bali - IS OFFICALLY CLOSED
Dojo Bali is a coworking space located on the beautiful island of Bali, Indonesia. Dojo Canggu is open 24/7 and located at Echo Beach, Canggu offering a collaborative and relaxing coworking environment. New locations are coming soon. Stay tuned to find out where the next Dojo will be set up.
Dojo Bali is a Registered Trademark and under license of PT Mintox, Indonesia
PT Dojo Bali Coworking Registration No: AHU-3570685.AH.01.11.TAHUN 2015
www.dojobali.org