Public Speaking, Storytelling, and master your content Workshop
2 Day Workshop in Bali - 8th-9th February 2020
Enquire now
Book now
DAY 1 : Public Speaking & Storytelling Workshop
Learn to gain confidence in being more dynamic and authoritative. Whether you're in an elevator meeting a potential new business partner, pitching your business, giving a keynote address at a conference in front of hundreds of people or being interviewed on a podcast, with practice, your voice can start to become confident and unique to you.
"Failure to communicate effectively in business is a fast road to failure. It means startups won't get funded, products won't get sold, projects won't get backing, and careers won't soar. Don't sabotage your potential because you can't communicate your ideas." – 'Talk Like TED'
Mastering the Art of Effective Communications and Engaging Others
The importance of body language
Learning to breathe into your voice
Improve Your Voice: Quick hacks to improve how you sound
How to be on-camera ready! (from live TV, Instagram & YouTube!)
Secrets to tell a good story & The art of the elevator pitch
Be a more effective networker
Who is it for?


Our ideal students fall into these categories:
Business Executives
Professionals looking to level up
Thought Leaders
Aspiring Influencers
Experienced Public Speakers who are looking to improve
Coaches
Aspiring motivational speakers
Entrepreneurs seeking investment
PR Professionals
"Dojo organised an intimate public speaking course that taught me everything about feeling confident when presenting, improvisation, acting, calming the nerves and also the tips and tricks on delivering a much more engaging presentation. Uptin is the best teacher and with upcoming courses, I totally recommend anyone who wants to build their presentation skills to deliver the best presentations in front of any type of audience."

Mikey Moran,
Co-founder of Go-Jek & Bali Praia
"This workshop is next level. Uptin is such a pro and expert when it comes to the subject. You will get a tonne of invaluable lessons throughout this workshop with plenty of opportunities to test out your new skills. If you need to communicate through whatever medium and have any reluctance doing so, this workshop will ensure you are far better equipped and more comfortable doing so in the future."

Nicky Cullen,
Copywriter & Anxiety Coach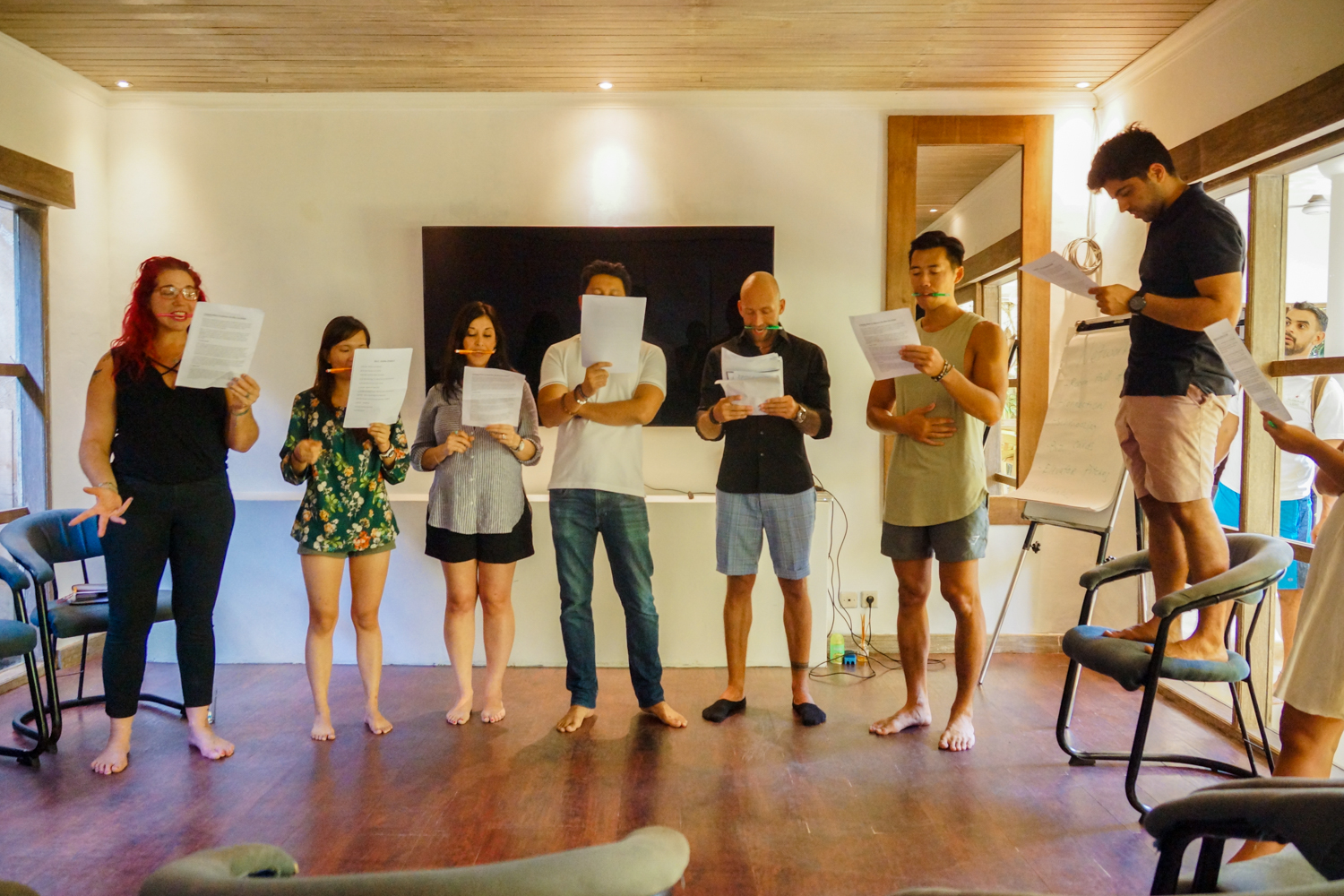 What is Public Speaking & Storytelling?
If you are an entrepreneur, business executive or ready to improve your communication skills in the office, you know that with practice, you can elevate your efficacy. But first, you'll need the framework and tools to apply to your daily awareness that will get you to that next level.
In this workshop, we will cover the fundamentals of breath work and how it impacts your voice, as well as your body language– which often communicates more than what you are saying.
We will also dive into techniques used to calm the nerves before speaking, along with a number of hacks on how to improve the tonality and pacing of your voice.
Through this workshop you will improve your interactive creativity, gaining tools to better understand what your subject wants through active listening and using new information to captivate their interests, giving you a powerful advantage in all situations where you are asserting your competence and trying to stand out from the crowd.
Participants will also be filmed on-camera to understand how they're coming across to their audience, and will be given continuous feedback that can be applied during the workshop.
While ToastMasters or private coaching can help show results over the long-term, this full day intensive workshop will be an instant way to improve your skills and develop your confidence that will ultimately help in both professional and personal ways.
DAY 2 : MASTER YOUR CONTENT
If you're ready to take your social media content to the next level, Master Your Content is the perfect way to up your game. Learn proven and effective techniques and skills to launch and improve your Podcast, YouTube channel and all online media content!
What is Master Your Content!?
If you're an entrepreneur, business owner, aspiring travel vlogger, or just ready to have a greater impact online, this workshop will give you a personalized strategy to build up your platforms and increase your audience.
You will learn how to create content that engages your audience, identify your pain points and overcome limiting beliefs that are holding you back. 
In this course, you will
Learn powerful storytelling techniques to master your brand story

Implement tools command your voice and sound more dynamic and authoritative online

Gain confidence to regularly connect directly with your audience

Identify the thoughts holding you back and understand how to push past them

Come up with a plan that gives you clarity on your online strategy 
Past Students Have:
Perfected their brand story

Gained confidence talking to camera on Instagram, YouTube and live TV

Launched top rated weekly podcasts

Launched successful YouTube channels

Increased audience & engagement to drive more sales

Booked paid speaking gigs across Asia & Europe
UPTIN SAIIDI

Multimedia Journalist, USA/Hong Kong

 Uptin Saiidi is a multimedia journalist with experience in working with major networks in New York City and Hong Kong. He has been involved in public speaking from an early age – starting with debate competitions and later studying Business and Communications at The George Washington University in Washington, DC. He now coaches others on voice and public speaking.
Regular 
US$290 Per Day 
US$560 Both Days
(Join either day or both)

Intensive 1 to 2 Day Workshop
 8th – 9th February 2019

Dojo Bali Coworking, Canggu, Bali, Indonesia
Choose to come to 1st or 2nd Day only or both, how good is that!
Professional Mentors
Professional Media Training
At Dojo Bali Coworking Space
On-Site Film Crew
Take your video home before & after
Coffee & tea breaks, lunches and social drinks are included
Enjoy Superpass (discounts on local businesses) benefits over the weekend (non-Dojo member)
Gallery
Take a peak inside 
Rules & Policies
We need your help to keep this community strong and useful:
No Spam, No Sales Pitch. We're all here to learn from one another. So share your knowledge and experiences, but please, no spam. 
Provide Context. It's great when people share links to relevant material. If you do, please add some commentary. Otherwise, it may be difficult to understand your point.
Be Respectful. Please be kind and constructive in your comments. Snark or spam gets deleted (yes, we do watch! 😉 
Dojo Bali
Dojo Bali is a coworking space located on the beautiful island of Bali, Indonesia. Dojo Canggu is open 24/7 and located at Echo Beach, Canggu offering a collaborative and relaxing coworking environment. New locations are coming soon. Stay tuned to find out where the next Dojo will be set up.
Dojo Bali is a Registered Trademark and under license of PT Mintox, Indonesia
PT Dojo Bali Coworking Registration No: AHU-3570685.AH.01.11.TAHUN 2015
www.dojobali.org