Melalie
No. 1 Motorbike Rental App in Bali
Price per visit (all day long!)
Melalie
Melalie is the number 1 App for fast, convenient and reliable motorbike rentals in Bali. It's a must-have application for all travelers who would like to discover the beauty of Bali on a motorcycle. Select and book your motorbike, scooter or Vespa in just a few clicks from one of our trusted vendors and get it delivered to wherever you are.
Download the app and use the QR code below to redeem your 10% discount.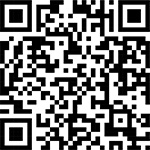 Dojo Bali
Dojo Bali is a coworking space located on the beautiful island of Bali, Indonesia. Dojo Canggu is open 24/7 and located at Echo Beach, Canggu offering a collaborative and relaxing coworking environment. New locations are coming soon. Stay tuned to find out where the next Dojo will be set up.
Dojo Bali is a Registered Trademark and under license of PT Mintox, Indonesia
PT Dojo Bali Coworking Registration No: AHU-3570685.AH.01.11.TAHUN 2015
www.dojobali.org